WHEEL OF ANTWERP
Wheel of Antwerp is a beautiful dice game that lets you enjoy beautiful Antwerp while chasing winnings. Enjoy the beautifully elaborated theme and the many subtle references to one of the most beautiful cities in Belgium.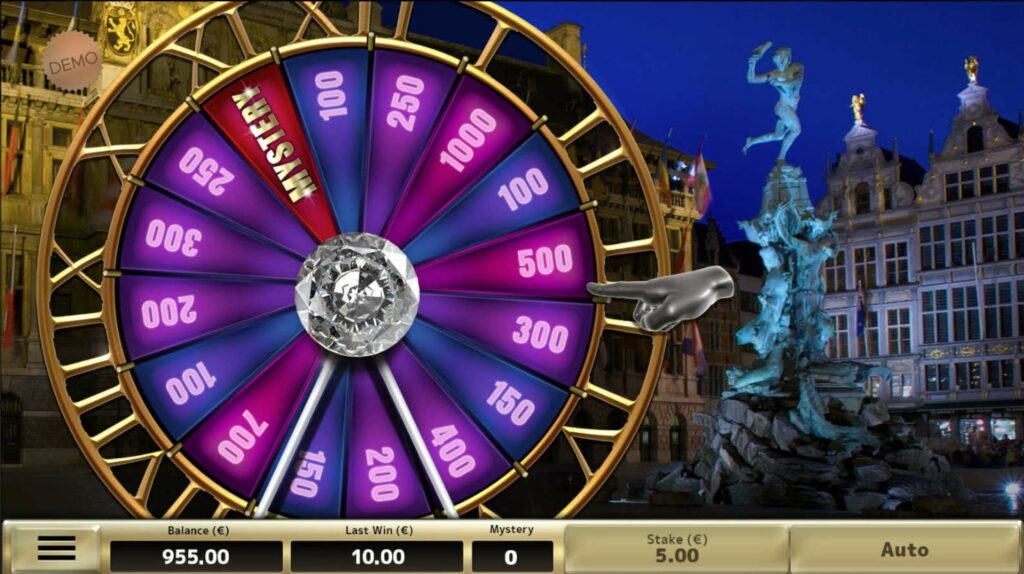 HOW DO YOU PLAY WHEEL OF ANTWERP?
Wheel of Antwerp is a classic dice game, with four squares in which you can place dice that are thrown by the game. The symbols are dice and three Chinese characters.
You try to form combinations on the five winning lines. These count from left to right, horizontally and diagonally. Wheel of Antwerp also gives you clues where the game thinks the current combination will fit best. In the settings you can also enable autoplay so that the game can play for you. This way the game follows its own suggestions and you can play much faster.
At the end of your turn, after Wheel of Antwerp has offered you twelve dice combinations, your points are added up and compared to the points table to determine your winnings. Winnings from 100 points will give you twice your stake back in Wheel of Antwerp.
As with many dice games, multipliers are also available in Wheel of Antwerp. If you get a winning combination in three fields, you get the win times one and a half. If you can place a combination in all four fields, it will be times two. A field full of the same dice gives you an extra 200 points.
You can set the bet between € 0.25 and € 15. This gives you winnings of up to 100 times your bet according to the points table. Not bad, but there is also a bonus game in Wheel of Antwerp!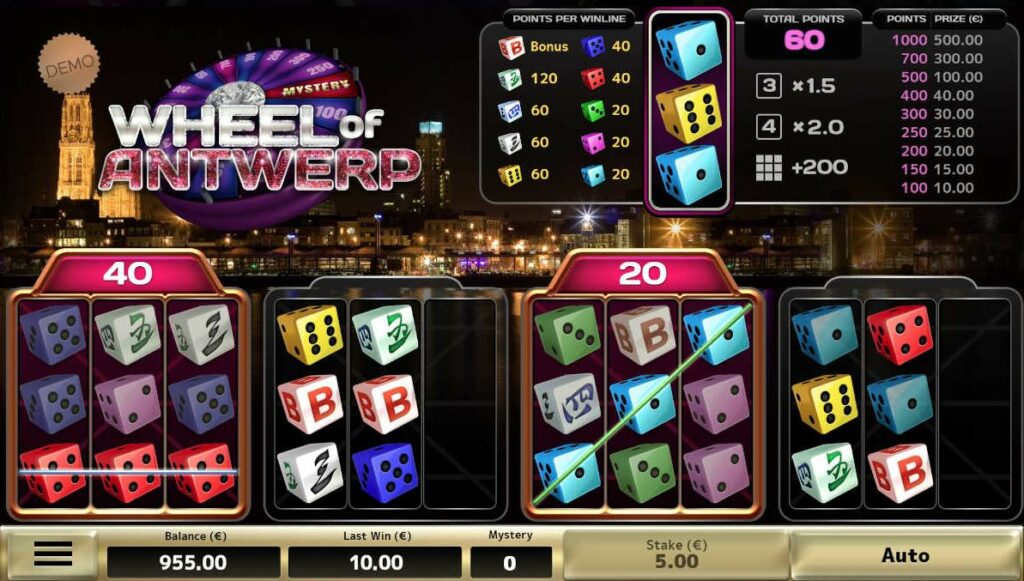 BONUS SYMBOLS OF WHEEL OF ANTWERP
There is only one bonus symbol in Wheel of Antwerp. It is represented as a white die with a red B on it. Three of these unlock the Wheel of Antwerp bonus wheel.
You can win up to a thousand points or mystery games. The points are added to your total at the end of the round.
Mystery games are a special kind of game where every game where you get at least a hundred points earns you the maximum prize. This is a great way to score extra winnings! So keep your eyes peeled for the bonus dice.
Fun fact, the bonus game is inspired by the legend of Brabo, the Brabant folklore figure! You see this in the hand of the giant Druon Antigoon, who is a pointer on the wheel. There are also subtle hints, such as the diamond in the center of the wheel, which refers to Antwerp's reputation as a diamond city.
CONCLUSION
Wheel of Antwerp is a wonderful game with Antwerp as the star.
Play safe and legal!
Blitz.be is the Belgian gaming site with a wide range of unique online casino games. Playing on our site is 100% legal. We have a license type B +.
Playing on a legal casino site ensures a safe gaming experience. We wish you a lot of fun and luck on Blitz.be!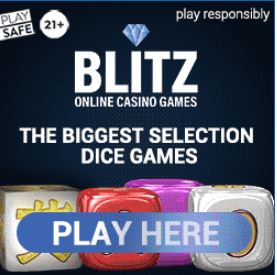 Rien ne va plus wishes you the best of luck with "Blitz and Air Dice present Wheel of Antwerp"
MagicWins online casino Dice Slots Discover the best online slot machines and dice games with the online dice slots at MagicWins. We take you to wonderful worlds thanks to the...
Social Media Rien ne va plus
Also check our partner!

Follow the live score of football
Also check out the monthly offers on Place2bet
Sociale media Place2bet
Check the table below for live football