MEGA WHEELS
A Dice Slot that gives you cashback? Not as strange as you might think.
Mega Wheels is a dice slot from Air Dice with a nice bonus game with which you can win big.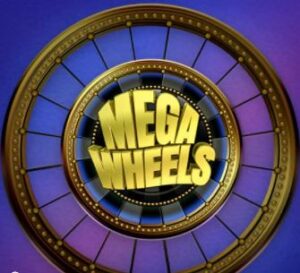 HOW DO YOU PLAY MEGA WHEELS?
The basic game is a simple dice game, in which you see four fields in which each nine dice fit. The game rolls three dice above the playing field, and you place them where you think they fit best. If there is a combination that can be formed, the appropriate field flashes so that you cannot miss it. You can also play with the keyboard. For example, Q, W, E, and R select the first, second, third, and fourth fields, respectively. A, S, D and F do the same. This is a little getting used to, and a little grunting if you accidentally mark the wrong field, but it means you can play much faster.
You can set the bet in Mega Wheels from € 0.25 to € 25 per turn. With the combinations (five winning lines that count from left to right) you can win a certain number of points. Depending on these points you will receive a prize. At the top right is also a prize table and the extra score rules. For example, if you have a combination in three fields, your winnings are doubled by 1.5. If you win in four fields, it becomes times two and if you have a field full of the same dice, you also get 200 points on top of the points of these combinations!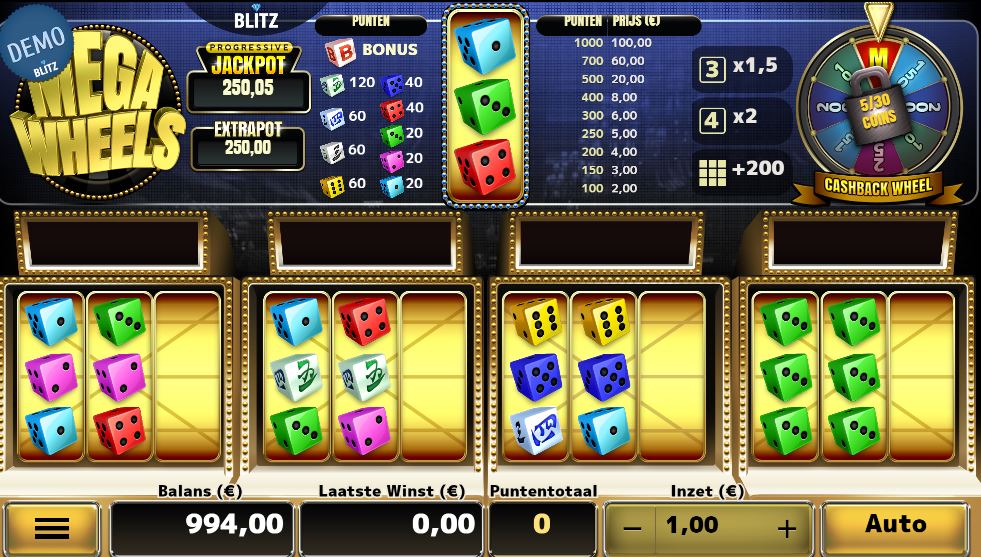 You can also use the car function in Mega Wheels to automatically place the dice according to how the game recommends it. This is not always the best option for your strategy, but is always an option if you don't feel like looking for yourself. You can also enable autoplay in the settings. In this case, the game is playing all alone.
On Mega Wheels you also have a progressive jackpot, and we'll get to how you can win it in a moment.
At the top right you also have the Mega Wheels Cashback Wheel. Each turn where you don't score enough points to make a profit, the game adds one coin to this pot. When you collect thirty coins, the small cashback wheel spins allowing you to add extra points to your turn. You can also win a mystery game.
You also have the big wheel of Mega Wheels …
BONUS SYMBOLS OF MEGA WHEELS
In the Mega Wheels bonus game, you spin the big wheel to win big. Press SPIN to start the first turn. The wheel stops at a sector that will award a cash win, points, Mystery Games, the ExtraPot or the progressive jackpot.
When the wheel stops at the progressive jackpot or ExtraPot, the bonus game ends immediately and you receive the current value of the jackpot.
If the wheel stops at a cash win, points, or Mystery Games, you have the choice of either accepting the win or spinning the wheel again. Once a wheel sector is rejected, that sector will be disabled for the remainder of this bonus game. You can refuse 4 times – the 5th result will be accepted automatically.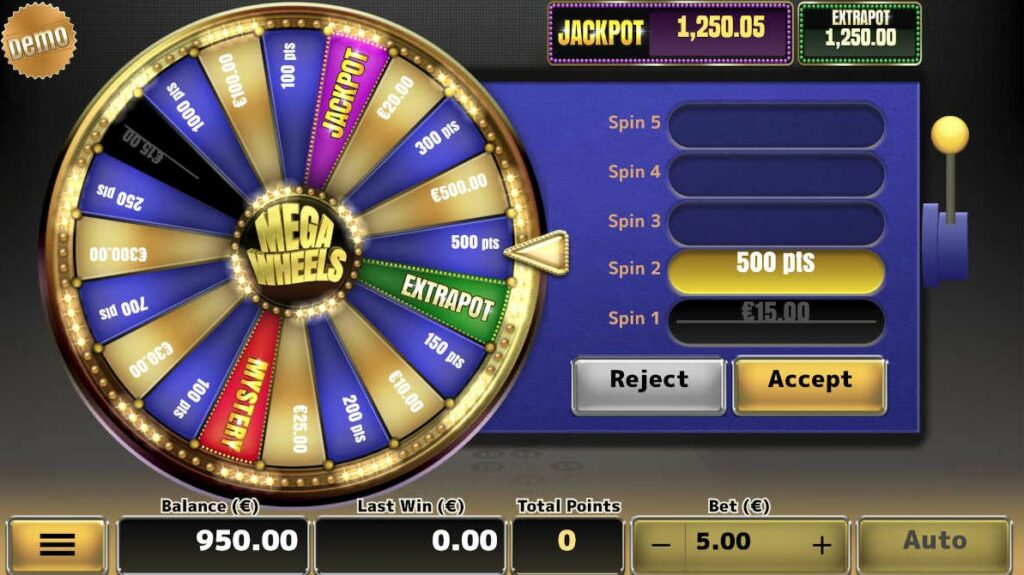 MEGA WHEELS FREE PLAY
Not convinced yet? Try Mega Wheels for yourself on our online platform and decide for yourself! You can easily try our demo version. If you want to go for real money, you can also log in and play for real money. With the huge jackpot and the cashback wheel, this is definitely recommended!
CONCLUSION
We definitely recommend Mega wheels if you are looking for an exciting and profitable game. The Mega Wheels Bonus wheel and the cashback wheel are two very good reasons to give this game a try for yourself. There is also Super Wheels Progressive if you really want to hit the jackpot!
Play safe and legal!
Blitz.be is the Belgian gaming site with a wide range of unique online casino games. Playing on our site is 100% legal. We have a license type B +.
Playing on a legal casino site ensures a safe gaming experience. We wish you a lot of fun and luck on Blitz.be!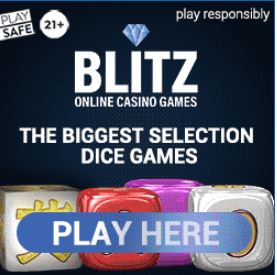 Rien ne va plus wishes you the best of luck with "Blitz and Air Dice present Mega Wheels"
MagicWins online casino Dice Slots Discover the best online slot machines and dice games with the online dice slots at MagicWins. We take you to wonderful worlds thanks to the...
Social Media Rien ne va plus
Also check our partner!

Follow the live score of football
Also check out the monthly offers on Place2bet
Sociale media Place2bet
Check the table below for live football