Choco Deluxe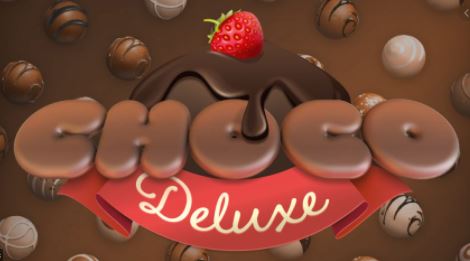 Description Choco Deluxe
First select your BET and press START. Place the column with any 3 dice in the center of the playing field in one of the four squares.
The goal is to get 3 of the same dice in a horizontal or diagonal row.
A minimum of 100 points are required to win.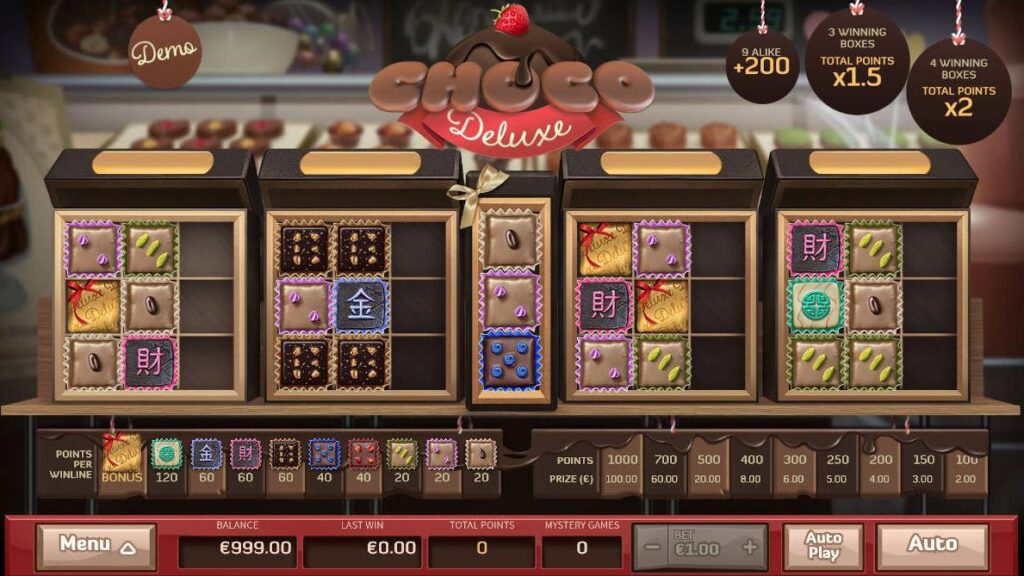 Choco bonus
Place three FOIL CHOCOLATE symbols on a payline to activate the box of chocolates. Pick your favorites and try to find the best! The bonus game can only be triggered once per box, but from up to four boxes in one game.
In the bonus game you will be presented with a box of chocolates with hidden values. Select a chocolate to review its value.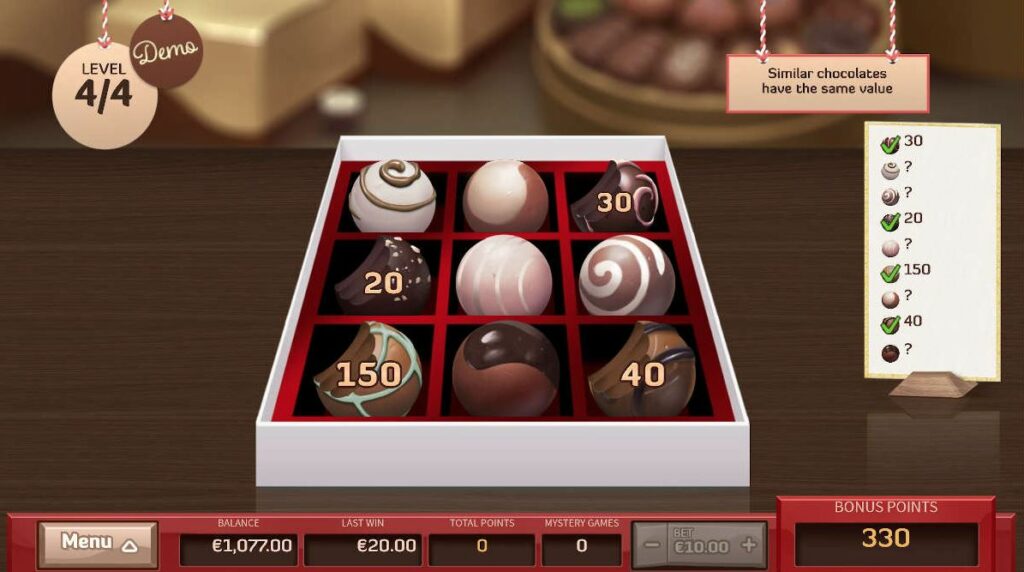 The values ​​hidden in the chocolates are either POINTS, LEVEL +, MYSTERY or COLLECT.
The bonus game with chocolates always starts with 80 points to build on. Each new chocolate revealed is immediately added to the total points.
There are four bonus game levels, each featuring a different chocolate box with a unique wintable.
During Mystery Games, all prizes in the prize table of the main game become the maximum win, 100 × your stake! You must pass the 100 point threshold to win.
Play safe and legal!
Blitz.be is the Belgian gaming site with a wide range of unique online casino games. Playing on our site is 100% legal. We have a license type B +.
Playing on a legal casino site ensures a safe gaming experience. We wish you a lot of fun and luck on Blitz.be!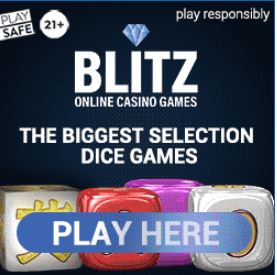 Rien ne va plus wishes you the best of luck with "Blitz and Air Dice present Choco Deluxe"
MagicWins online casino Dice Slots Discover the best online slot machines and dice games with the online dice slots at MagicWins. We take you to wonderful worlds thanks to the...
Social Media Rien ne va plus
Also check our partner!

Follow the live score of football
Also check out the monthly offers on Place2bet
Sociale media Place2bet
Check the table below for live football