Cosmigon
Explore every corner of this cosmic beehive!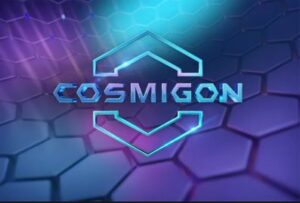 Description Cosmigon
First choose your bet using the Stake button. Press START to start the game. Place the column with any 3 dice in one of the four squares.
You earn points by placing 3 of the same dice in a horizontal or diagonal line. Rare dice give better rewards. See WINLINES & POINT TABLE on page 4 for more information.
A minimum of 100 points are required to win. Combine multiple lines and frames for even more points. See PRICE TABLE & MULTIPLIERS on page 5 for more information.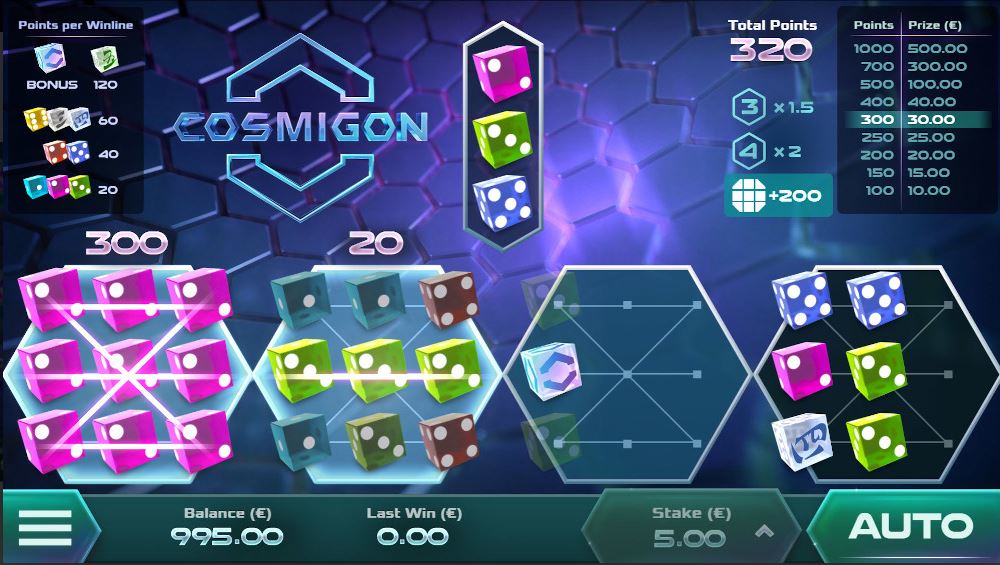 Cosmic Advance Bonus
Aim for the wheel tiles to spin the wheel or collect the big dice to go for the grand prizes at the end of the track!
In this bonus feature, you play a board game and roll dice to progress. Your dice are displayed on the right and you start with 5 rolls. Click on the dice to roll. The tiles on the board contain points, cash prizes, mystery games and replays.
After any die roll that does not result in a new roll, you can choose to accept or reroll that result. After the last throw, the result is automatically accepted. You can only accept one result.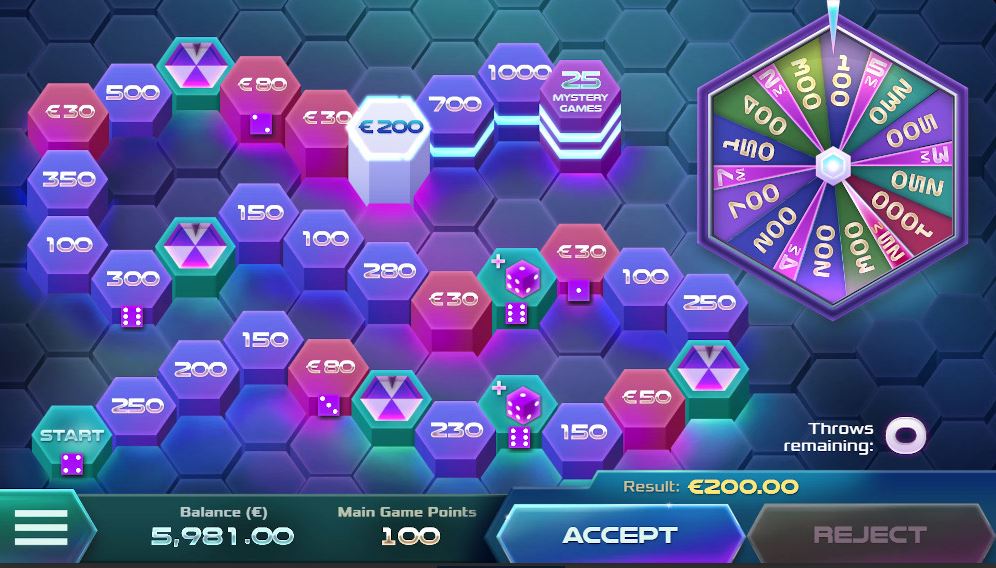 Cosmic Mystery Games
During Mystery Games, all prizes in the prize table of the main game become the maximum win, 100 × your stake! You must pass the 100 point threshold to win. Mystery Games do not affect cash prizes.
NOTE: You can only win the bonus game once from one box, but you can still win up to 4 bonus games per game.
Most tiles on the board contain winnings, either money or points. The last tile win is 25 Mystery Games. There are two tiles that assign a repeat. There are also 4 special WHEEL tiles, which allow you to spin the wheel on the right side of the board. The wheel awards points or Mystery Games. Possible wins of the wheel sectors are:
• Points: 100, 150, 200, 200, 230, 250, 300, 300, 400, 500, 700, 1000
• Mystery Games: 2, 3, 4, 5, 7, 25
Play safe and legal!
Blitz.be is the Belgian gaming site with a wide range of unique online casino games. Playing on our site is 100% legal. We have a license type B +.
Playing on a legal casino site ensures a safe gaming experience. We wish you a lot of fun and luck on Blitz.be!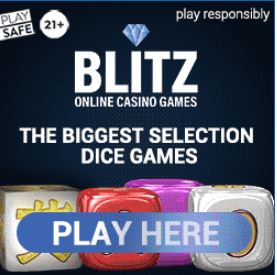 Rien ne va plus wishes you the best of luck with "Blitz and Air Dice present Cosmigon"
MagicWins online casino Dice Slots Discover the best online slot machines and dice games with the online dice slots at MagicWins. We take you to wonderful worlds thanks to the...
Social Media Rien ne va plus
Also check our partner!

Follow the live score of football
Also check out the monthly offers on Place2bet
Sociale media Place2bet
Check the table below for live football