SUPER WHEELS PROGRESSIVE
Super Wheels Progressive from Air Dice is a dice game with a fantastic jackpot and a Cashback Wheel. If you've ever played an Air Dice dice game, Super Wheels Progressive is probably not unfamiliar to you.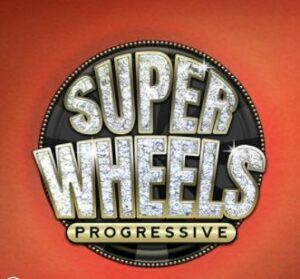 HOW DO YOU PLAY SUPER WHEELS PROGRESSIVE?
If you don't win against a game in Super Wheels Progressive, you will be credited towards the Cashback Wheel. When you have 30 credits and you start the next game, the Cashback Wheel will spin to award you starting points for the new game or Mystery Games.
First select your BET and press START. Place the column with any 3 dice in one of the four squares.
The goal is to get 3 of the same dice in a horizontal or diagonal row.
A minimum of 100 points are required to win.
If you manage to form a line of three bonus symbols on a payline, you will enter the bonus game.
During Mystery Games, all prizes in the prize table of the main game become the maximum win, 100 × your stake! You have to pass the 100 point threshold to win. Mystery Games do not affect cash prizes.
You can bet between € 0.25 and € 5.

The symbols of Super Wheels Progressive are mostly dice, and the value can be estimated by the number of pips on the side. Dice with Chinese characters are worth a lot, and the green Chinese character is worth 120 points.
The points table of Super Wheels Progressive is at the top right. You have to pay attention to this because your score is not entirely proportional to your profit! One hundred points will earn you 10 at the highest bet level. If you are between two lines of the table, for example, you win 160 points, you get the prize for 150 points.
At the top right you also have the Cashback wheel, an extra bonus game in Super Wheels Progressive. You can unlock this wheel with 30 coins. Every time you lose a round, a coin is added to this game. After you have saved thirty coins in this way, the wheel spins at the start of the next round. You can win up to 250 points or mystery games in this bonus game!
Keep an eye on!
If you change your bet, the cashback wheel at that level will go back to zero. Don't worry, when you return to your previous betting level you will find all the coins you saved. So, for example, if you get nine coins at bet level € 0.25, and then save three coins at € 0.50 bet level, you will find nine coins when you go back to € 0.25.
BONUS SYMBOLS OF SUPER WHEELS PROGRESSIVE
In the Super Wheels bonus game, you spin the big wheel to win big. Press SPIN to start the first spin. The wheel stops at a sector that is aware of a cash winnings, points, Mystery Games or the progressive jackpot.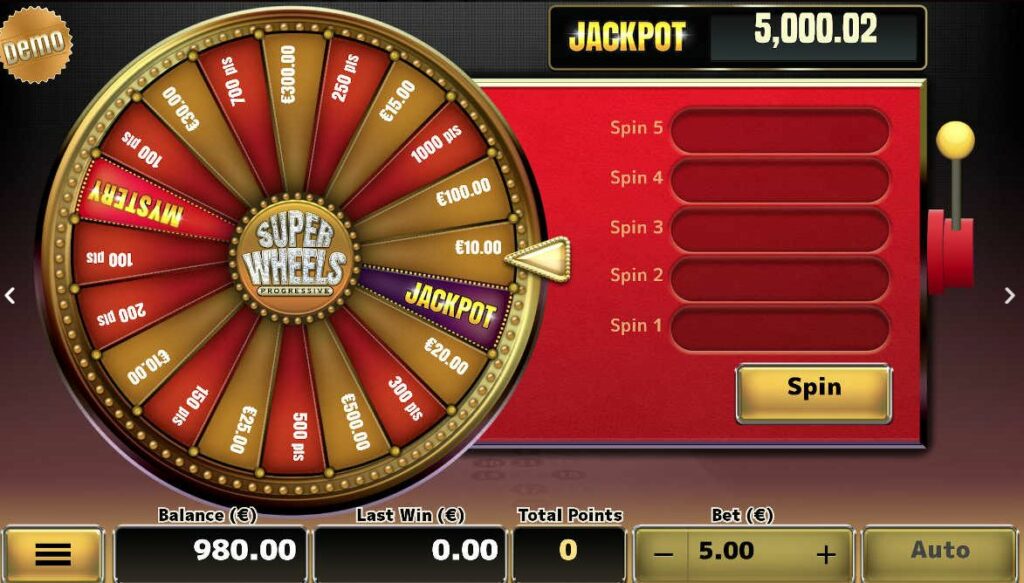 If the wheel stops at a cash win, points or Mystery Games, you have the choice to accept the win or to spin the wheel again. Once a wheel sector is rejected, that sector will be disabled for the remainder of this bonus game. You can refuse 4 times – The 5th result is automatically accepted.
SUPER WHEELS PROGRESSIVE FREE PLAY
You can play Super Wheels Progressive on our online platform for free, without download. You can simply play and decide if this is the game for you! If you want to switch to real money mode, it is only a matter of clicking Play for Real at the top right.
CONCLUSION
Super Wheels Progressive is highly recommended if you are looking for an exciting dice game! If you like dice games, there are several games in the Air Dice catalog that you will like, such as Infinity Dice and Spirit Sisters.
Play safe and legal!
Blitz.be is the Belgian gaming site with a wide range of unique online casino games. Playing on our site is 100% legal. We have a license type B +.
Playing on a legal casino site ensures a safe gaming experience. We wish you a lot of fun and luck on Blitz.be!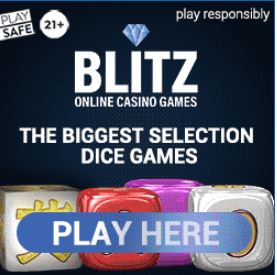 Rien ne va plus wishes you the best of luck with "Blitz and Air Dice present Super Wheels Progressive"
MagicWins online casino Dice Slots Discover the best online slot machines and dice games with the online dice slots at MagicWins. We take you to wonderful worlds thanks to the...
Social Media Rien ne va plus
Also check our partner!

Follow the live score of football
Also check out the monthly offers on Place2bet
Sociale media Place2bet
Check the table below for live football